The Guinea Pig Zone - Where the Passionate Piggy People Go!
Dr. Julia Becker
Hot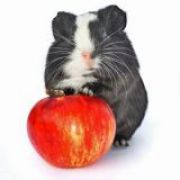 Internet List
January 01, 2003
Emergency
Dr. Alexander Wolf, DVM Avian & Exotic Animal Clinic 415 N. Earl Ave. Lafayette, IN 47904 765-446-1816
Facilities
Surgical facilities
X-ray equipment
Map
User reviews
1

reviews

Quality of Pet Care

5.0 (1)

Quality of Customer Service

5.0 (1)

Price Performance

5.0 (1)
Cindy Harwood
Quality of Customer Service
5.0
Dr. Becker is Awesome!
Dr. Julia Becker is an awesome vet! My pig (and my family) loves her! She is very knowledgeable and caring. She loves guinea pigs and has a great sense of humor with the animals. She runs a local guinea pig rescue and she helps out with all types of rescues in the area. She even acts as a vet for a local wolf refuge. I highly recommend her. She charges very fair prices and gives top notch care!
Was this review helpful to you?